Landgasthof Schwarzes Ross
Goldmühler Straße 10 – 14
95460 Bad Berneck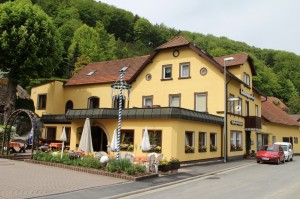 Posted by H.-G. in Bayrisches Allerei
H.-G. posting this restaurant at our German blog brought back memories of Sunday family outings when I was young. Trips to Bad Berneck with afternoon walks through the beautiful park areas of the local Spa were always concluded with a visit to the "Schwarzes Ross" in the nearby village of Goldmühl in the valley of the river Weißmain at the foot of the Fichtelgebirge (Pine Mountains).
The upscale interior has the typical Franconian ambiance.
This Restaurant was always famous for their food and is still drawing guests from all over this region. This country inn, with it's in-house butcher shop and sausage kitchen, is famous for it's excellent local fare and the check in the end should not give you sticker shock.
Menu items include Kren Suppe, Schinkennudeln, Schweineschäufele, Zwiebelbraten, Rahmsauerbraten and Steak Tartar among many others. (Let me translate these menu items: Horseradish soup, Ham noodles, Pork Shoulder Roast, Onion Roast, Sauerbraten with heavy Cream Sauce and a German favorite Steak Tartar).
You can always round off your dining experience with one of their delicious desserts.
Click here for our homemade Eierlikör recipe.