Raitschin 4
Regnitzlosau, 95194
Telefon: 09294/97500-0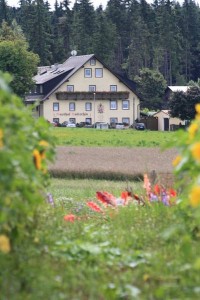 Whenever we go back for a visit to the old country we plan in a stop at the Gasthof Raitschin. It was our mother's favorite restaurant and on any of our visits there we always had excellent food and friendly service. The choices on the menu were enough to satisfy everyone at the table. From roasted elk to the "Franken" specialty "Schäuferle", Schnitzel to even braised beef tongue, Sauerbraten and also roasted goose breast, we always enjoyed our meals.
So, if you are on the Autobahn A93 between Hof and Rehau during dinnertime let your GPS take you there, the added 4km drive is well worth it and if you should stay there overnight you can also familiarize yourself with the selection of their 14 different beers.
Good food, friendly service and a "gemütliche" setting.
The five pictures below were taken during a recent visit by members of our family
The following pictures are borrowed from their website.