Reviewed and contributed by H.-G.
Café Rischart
Marienplatz 18 80331 München-Altstadt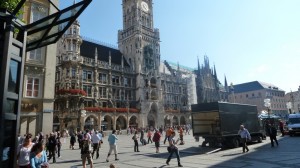 The enticing baked goods at the Rischart Bakery are savored by people all over Munich. They have more than ten bakeries and cafés in the city including one open at the "Wies'n"** during the time of the world famous Oktoberfest.
**

Wies'n, the location of the Oktoberfest
Their most central location is in the pedestrian zone at the Marienplatz. Sitting there at the sidewalk café watching the world go by while enjoying breakfast or lunch, coffee and a delicious piece of torte in the afternoon or one of their delectable ice cream specialties anytime during the rest of the day is something one could easily get used to.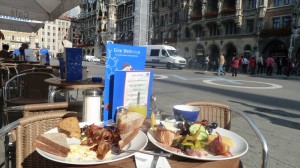 This bakery, dating back to 1883, is totally entwined in the local way of life.