Gasthof/Restaurant "Am Strand" in Marktredwitz
This article was written by H.-G. and translated by Rudy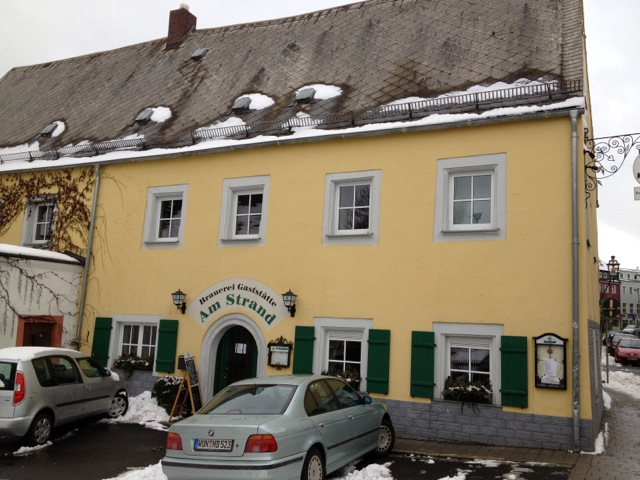 Marktredwitz, a small town in northeast Bavaria is home to the rustic, Franconian restaurant Brauerei Gaststätte** am Strand with traditional local food. This is a brewery restaurant of the "Brewery Nothaft" **and is operated by Helmut Gläßl and his two kids.
(** see below)
They specialize in "Karpfen blau"** steamed in an excellent Vegetable-Wine marinade, Filet Mignon from Angus beef with fried potatoes, mixed salads with a sweet-sour house dressing and we also have to mention "Kronfleisch"** another local specialty.
This restaurant is on the small side and very well visited. The prices are considered very reasonable for this region.
Brauerei Gaststätte am Strand
Ottostraße 30
95615 Marktredwitz
Phone: 09231-2985
Business hours:
Wed – Fri 10 am – 2 pm and from 5 pm  Closed Mon and Tue
Sat, Sun and Holidays open from 10 am on.
**
Brauerei Gaststätte, is a restaurant, which is owned or closely associated with a brewery.
"Brauerei Nothaft", one of the many excellent breweries in the region, the history of brewing beer at their location dates back to the year 1540. Otto Nothaft founded the brewery in 1882 and it is still in this families ownership (4th generation). According to their website, they conduct brewery tours but they might be only in the German language.
Karpfen blau (carp blue), is a famous dish in Northern Bavaria, the fish is cooked in a vinegar based brine, which gives the skin of the fish a bluish color, hence the name "blue". A recipe for this with a rainbow trout can be found at Inge's Kitchen.
Kronfleisch, another local specialty made from the skirt steak.