Reuthstr. 21
95100 Selb
In the center of the Community Gardens of the Garden Club Rosenthal is the restaurant Blockhuette Selb.
You found me there during a family reunion of our German clan last year.
Used to the American/Michigan Banquet halls where you have the choice of 2 or may be 3 meats on a buffet line, I was surprised when the waitress handed me an actual menu.
The sit down dinner started with the choice of a Leberknödelsuppe/Liver Dumpling Soup, which is a regional specialty and went on to five entrees: Sauerbraten, Deer Roast, Bavarian Pork Roast, Schnitzel and also a Filet of Fish dish.
The well prepared and excellent seasoned food was enjoyed by everyone.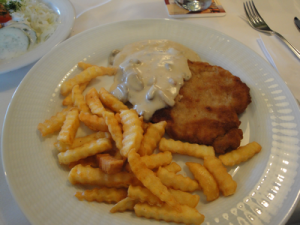 So we decided to come back a couple days later for lunch. My Mushroom Schnitzel was superb and according to my 3 companions so were their fish dishes.
Service was excellent and the proprietor makes a great effort to make you feel at home.
Closed on Monday and Tuesday. they start with Schnitzel Day on Wednesday at 3 PM with a variety  of  20 different Schnitzel dinners on the menu. Thursday and Friday afternoon you can get together for your own private Kaffeeklatsch here. Besides these weekly special events you can also order from their menu. Food is served from 11 AM until 9 PM.
Sure, there are restaurants in the region with comparable food quality, but not many come up to the quality/quantity/price ratio you will find here.
 .