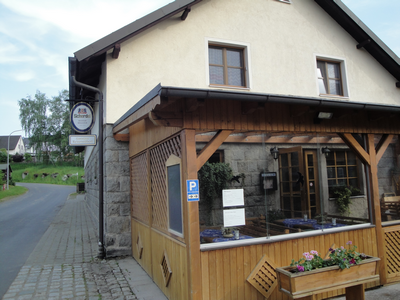 During my last visit in the region for a family reunion, my oldest sister and her husband invited my younger sister and me for supper at the Reiterstüberl, Großwendern. This place will not be listed in your commercial travel guides, but it is well known to the locals.
After a fire, over 80 years ago, the old farm was rebuilt and changed to a "Reiterhof", a place to board your horse(s), it was also decided to add a small pub and the Reiterstüberl was born.
Additions and upgrades added a restaurant and a modern kitchen.
During the week you can select one of their excellent "Brotzeit" for a reasonable price. A cold platter of assorted wurst, ham, cheese, wurstsalad and on the warm side a couple of Bauernwurst or Wieners on a bun, Leberkaes, Currywurst or Ring Bologna with Sauerkraut can always be ordered.
The Wurst is made in their own sausage kitchen.
On the weekend you can enjoy a Schnitzel and a few other hot meals from their regular menu and for Sunday there are always a couple of local specialties added, like this week Rouladen and Pork Roast with Potato Dumpling.
The owner Andrea runs the show and is great at taking care of her guests.
This is a place of my off-the-beaten-track category which is from the quality and price ratio well worth a visit.
.
.
.
As an old meat-man myself , I have to say that I really enjoyed the quality and taste of Wurst here. Look at my menu choice in the picture on the left.