Vielitz 7
95100 Selb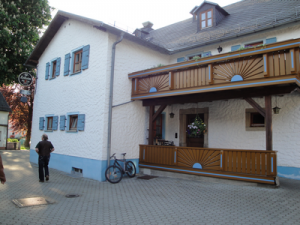 Like many of the places I try to feature, this one, located in a small village is also hard to find, but the food offered here is worth a visit.
Monday evening, vacation time, with many restaurants closed on Monday, the decision was made to visit Schade's Schmankerl Stubn.
Entering the yard we saw a, for a Monday, well attended beer garden on our left, but decided, as the evening was getting cooler, to eat inside.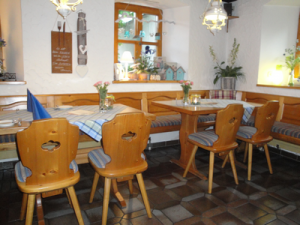 Like many restaurants in the region the furnishings were in a nicely appointed traditional Franconian style, nice size sturdy wood tables with padded wooden benches and chairs.
As we were the only customers inside, the waitresses dressed in Dirndls were very attentive.
In no time our drinks were served and our orders from a well rounded menu were taken.
The fish, served here in season, is very fresh as they are raised in their own pond(s). Although other local specialties sounded very tempting, I selected the Beef in Horseradish Gravy (Krenfleisch).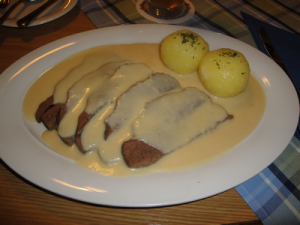 Once it was served and I started eating, I knew I made the right choice, as it tasted great and the horseradish had just enough bite to make it delicious. I was told the fish and the other entree choices of our group were also excellent.
An espresso to end the meal was served with a whole tray of different types of sugars.
To sum it up, delicious food in generous portions with fast and friendly service, that is all I am looking for and that is what this restaurant achieved.