Brauereigasthof Krug
Breitenlesau 1 b
91344Waischenfeld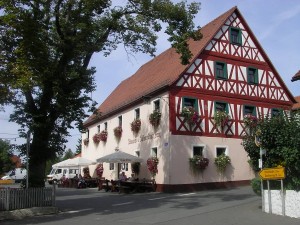 Life can't get much better than spending a beautiful, warm Sunday afternoon in the region called the Fränkische Schweiz and ending it with a meal in Breitenlesau at the Brauereigasthof Krug.
Sitting with friends in the beer garden with a wholesome, tasty "Brotzeit" or a large Schnitzel in front of you, accompanied by one or two home brewed beer(s) (even three if you have someone to drive you home), that is "the ultimate living".
The food here is original "Franken", tastes excellent, with sizable portions, the beer is outstanding and you don't get shocked when you get the check.
So, if you are in the region – program your GPS to take you there!
Brauereigasthof Krug website only in German
Some pictures here are borrowed from their website.