Posted by H.-G. at our Bayrisches Allerlei blog.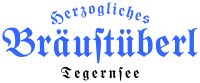 Herzogliches Bräustüberl Tegernsee
Peter Hubert GmbH & Co. KG
Schlossplatz 1
83684 Tegernsee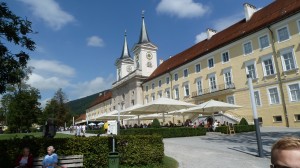 Located just 30 miles south of Munich on the east shore of the Tegernsee is the monastery "Kloster Tegernsee" which includes the well known Tegernseer Brewery and the Herzogliche Bräustüberl (sorry, their website is German only but has a PDF file in English which includes their menu).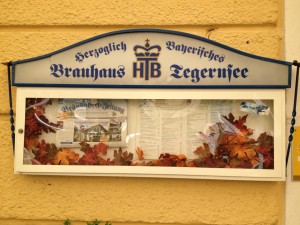 The Benedictine Abbey was founded here in 745 A.D. and the monks started a brewery in the year 1050, which includes this brewery among the oldest still in existence. In 1803, the monastery was secularized and bought by the Wittelsbach, the Bavarian Royal family, as a summer residence. The brewery is now run by a daughter of Duke Max in Bayern/Bavaria.
.
.
.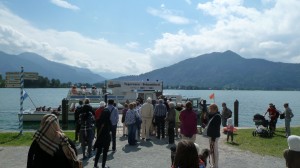 With their own boat dock and the Alps as picturesque back drop, it is a popular destination for a day trip.
.
.
.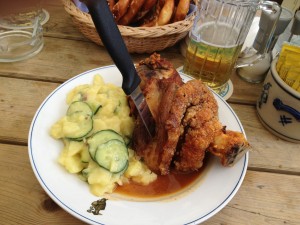 The selection here, besides the excellent Bavarian beer(s), includes the traditional Bavarian Schmankerln and Brotzeiten as listed on their English Menu. For some pictures of their mouth watering dishes click here.
A visit here is a must for our reviewer H.-G. when he is roaming around in this area.
Worth mentioning: Two things I found at their German only website, they have their own hot air balloon for rent and I also found Tandem Paragliding is offered in their shop.